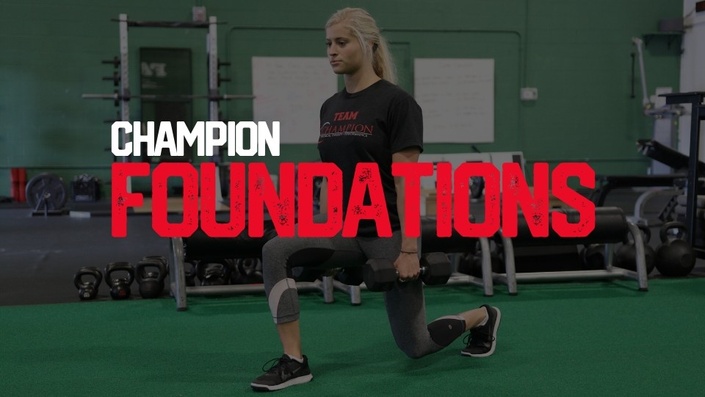 Champion Foundations
4-week program for beginners with everything you need to get the most out of the start of your fitness journey
Ready to Get Started? We're Here to Help
We know the hardest part of any new journey is getting started. That's why we designed our Champion Foundations program to guide you from where you're at right now to the gym without feeling intimidated or by yourself, all in the comfort of your own home.
This program teaches you the foundational movement and lifting patterns to be successful on your fitness journey. In addition, we'll you a specific roadmap for how to approach getting started with fitness and building momentum towards your goals!
Through this course, we've outlined what we believe to be the optimal path for your success with fitness and your health. We've divided up your fitness journey into 4 stages that provide you with clear, actionable milestones and action steps to work through in order to ensure your long term progress towards changes that stick.
Our proven success path gives you all the tools you need to be successful in your fitness journey. It's a step-by-step approach we've developed that takes you from wherever you're starting at to anywhere you want to go.
We also know nutrition is very important to your fitness goals and laying the foundations for success. We have also included the 5 Pillars of Nutrition to help you get started!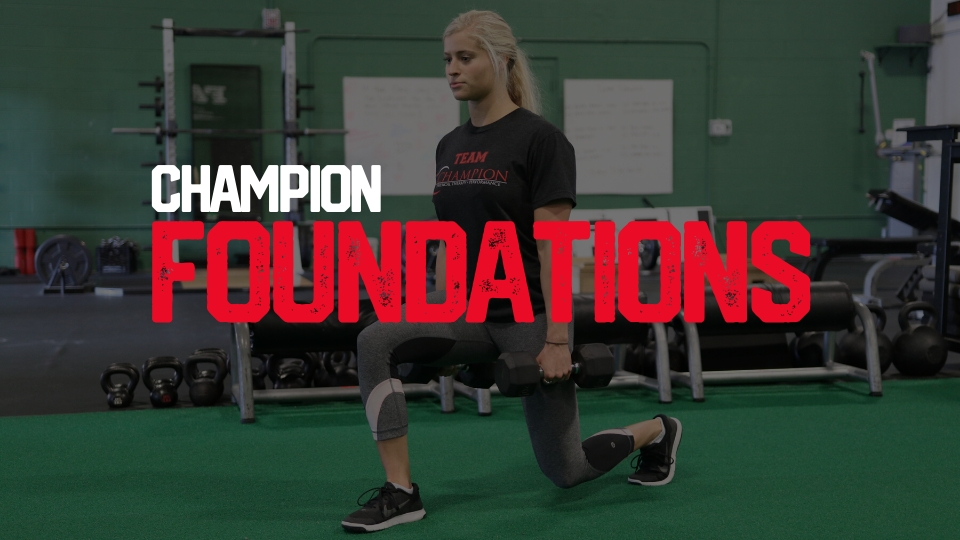 Your 4-Week Champion Foundations Exercise Program
Your 4-week Foundations Program is all about getting started and building momentum. Even if you're at home or with limited equipment. We've combined a comprehensive 4-week training program with educational content to assure you have everything you need to take you to the next level.
Similar to crash diets, most 'crash' exercise programs that force you to jump all in to 6-days a week of intense exercise aren't sustainable in the long term. We know from our experience, that is very difficult to do, especially with the busy schedules faced by many.
On top of that, they get you started so quickly that it ignores mastering the basics and foundational movement patterns.
At Champion, we believe that there are 5 core pillars of fitness success. These pillars are built around the idea that if you truly want to get the most out of your fitness routine, you need to start with the basics.
We want you to be successful in your fitness journey!
Here's why the Foundations Program will help you:
Learn to train all qualities of fitness
Learn how to follow a structured training program
Learn and strengthen the foundational lifting and movement patterns
Learn to train with a purpose
Ready to progress to a more comprehensive program with an emphasis on strength training!
Get Started Today at Home
We know even this can feel like a lot when you're getting started. Treat this information just as it's presented; modules and lectures. It's not intended to be digested all in one day, or one week even. Our intention is that if you take things step-by-step rather than as a crash course, you'll set the stage for long term health and fitness success rather than a crash course to burnout.
WHAT'S INCLUDED?

---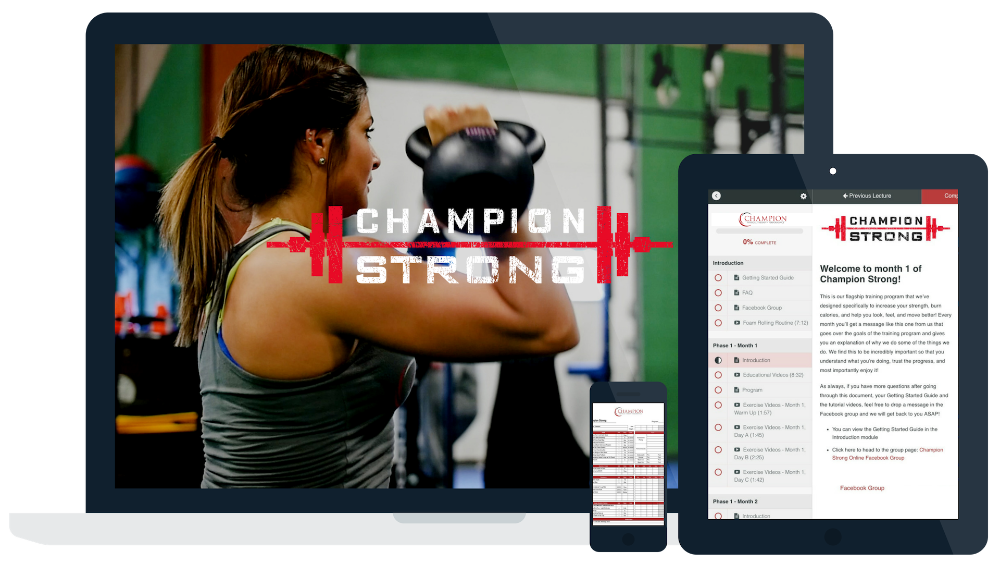 Can't train with us in-person? No Problem. The Champion Online Training platform has everything you need to take advantage of our expert coaching and programming from anywhere in the world. Our Champion Foundations is designed to help you get started.
Viewable programs and video exercise demos from you phone, tablet, or computer

Printable versions of your program to take with you and track you weights and progress

Adaptable 4-week training program can be perform 1-3x per week based on your schedule

Educational videos to help you master the main lifts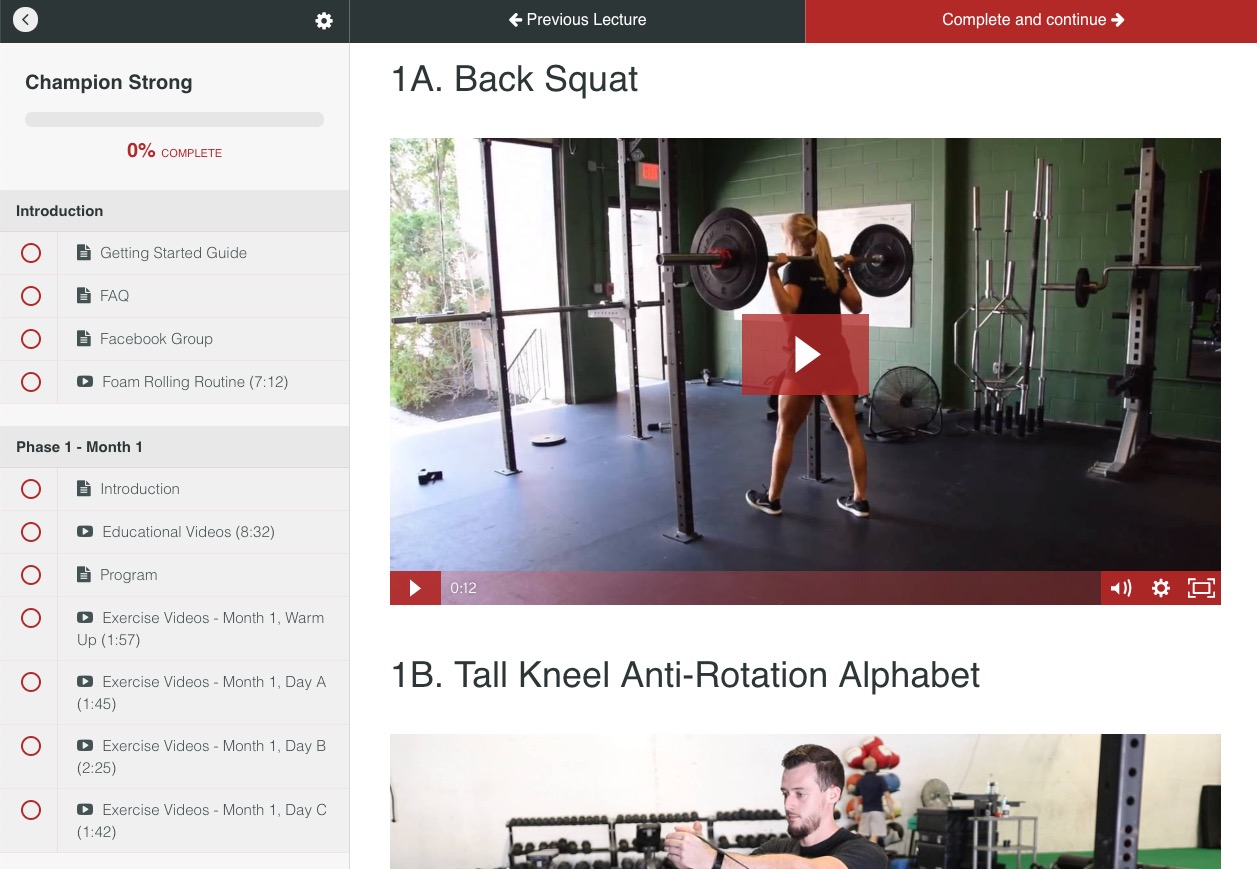 Program Contents
Introduction
Available in days
days after you enroll
The Champion Success Path
Available in days
days after you enroll
The 5 Pillars of Fitness
Available in days
days after you enroll
THE CHAMPION DIFFERENCE
---
The world-renowned team at Champion PT and Performance is highly skilled to offer the latest cutting edge fitness options to help you achieve your goals. We are trained in many of the latest assessment, corrective exercise, and strength and conditioning philosophies. Our coaches and therapists are industry leaders who have been featured in:

We work with anyone looking to get the most out of their bodies. Our clients range from busy moms, to weekend warriors, to corporate executives, to fitness enthusiasts, to professional athletes from every sport, including:


BUT DON'T LISTEN TO US, HERE'S WHAT OTHERS SAY ABOUT OUR PROGRAMS
---