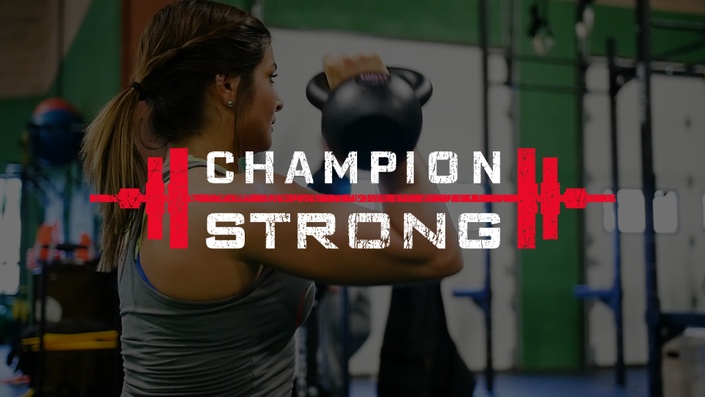 CHAMPION STRONG
---
Training Level: Beginner / Intermediate / Advanced - can be modified based on training level

Workouts per Week: Standard program is 3x/week, can be modified for 2-4x/week

Workout Length: 45-75 Min

Duration: 12-months

Equipment Needed: Dumbbells, Kettlebells, Barbell (optional)

Champion Strong is our flagship training program that we've designed specifically to increase your strength, burn calories, and help you look, feel, and move better!

Champion Strong was designed to take you through four effective and progressive phases of fitness over the course of 12 months. Each month within a phase builds on the previous, and each phase has a slightly different focus than the last so that you continue to make progress for the entire year, while still holding true to our values of training every aspect of fitness within the program.
After the 12 months of programming ends, you will continue to have access to the program for as long as you continue to be a member. Many people continue their membership because they want to continue to have access to the workouts and educational content for future reference, or because they fell behind a couple months during their training.
Phase 1 (Months 1-3) Overview
Phase 1 is designed to (re)build a foundation of all qualities of fitness that you can use to develop more specific qualities as the phases progress. In this phase you can expect:
Improved mobility

To develop a foundation of strength and work capacity

To build and enhance fundamental movement patterns

A (re)Introduction to training all qualities of fitness
Phase 2 (Months 4-6) Overview
Phase 2 is a progressive strength block designed to build and enhance strength while maintaining a high level of fitness through shorter, more intense conditioning circuits. In this phase you can expect:
(Re)introduction of the barbell strength lifts (Squat, Bench Press, and Deadlift)

Increased strength development through barbell strength lifts

Increased lean muscle mass

Maintained or improved fitness through short, intense metabolic circuits
Phase 3 (Months 7-9) Overview
Phase 3 is what we call an advanced work capacity phase that includes a variety of training schemes designed to increase your training density to effectively burn more calories, improve your fitness and maintain strength. In this phase you can expect:
Improved work capacity through increased training density

Maintenance of strength developed in the previous phase

The use circuits, every minute on the minutes, and complexes to keep training fresh and effective for improving fitness and burning more calories
Phase 4 (Months 10-12) Overview
Phase 4 is what we call a more advanced strength phase designed to use a variety of training schemes to increase your strength even more. In this phase you can expect:
Lower rep training for the barbell strength lifts with options for both newer and more advanced trainees

The use of specific methods such as cluster sets, contrast training, and rest-pause sets

The option to test your new levels of strength at the end of the phase
If you have any question AT ALL about where to begin with your fitness journey, then this program is for you. Our approach was designed from years of experience coaching people of all backgrounds and ability levels and we feel confident that if you want to look, move, feel and perform your best, then this is the best path to success.