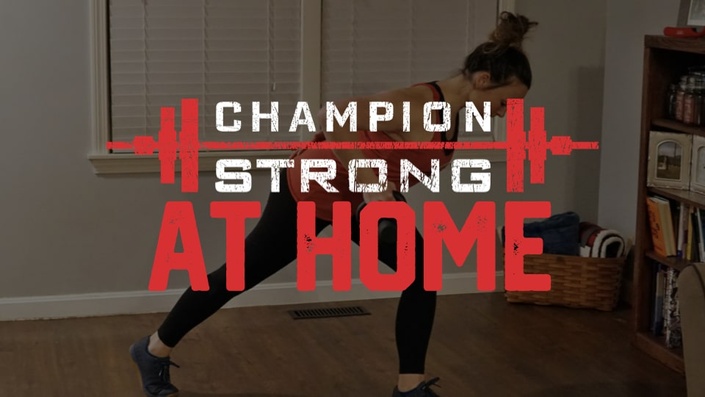 Champion Strong At Home
No Gym, No Problem! Get Strong from the Comfort of your Home!
Enroll in Program
READY TO START AT HOME WORKOUTS THAT ARE BUILT FOR YOU AND YOUR HOME?
---
Designed for anyone who doesn't have gym access and still wants a comprehensive strength & conditioning program, our Champion Strong At Home 12-week workout program will help you move and look better, burn calories, and gain lean muscle! Over the next 3 months, your program is specifically designed to progress in difficulty to ensure that you're consistently challenged and working towards your desired results.
There are tons of At Home workout templates out there that guarantee quick results, but few give you as well rounded of an approach as this one. This program is designed to be performed 3-5 days per week based on your personal schedule. We have carefully selected exercises that can easily be done with minimal or no equipment or adapted to the equipment you already have (bodyweight, bands, dumbbells, kettlebells, med balls).
Our Strong At Home Workout program is a perfect combination of mobility, strength, high intensity interval training (HIIT), and traditional cardio solutions to make this one of the most comprehensive programs out there!
Our acclaimed training program is based on the same programs we use every day with our clients in our gym. Based on their feedback, and programming for many clients remotely for their homes, we know what works, and we know how to help you reach your at home workout goals!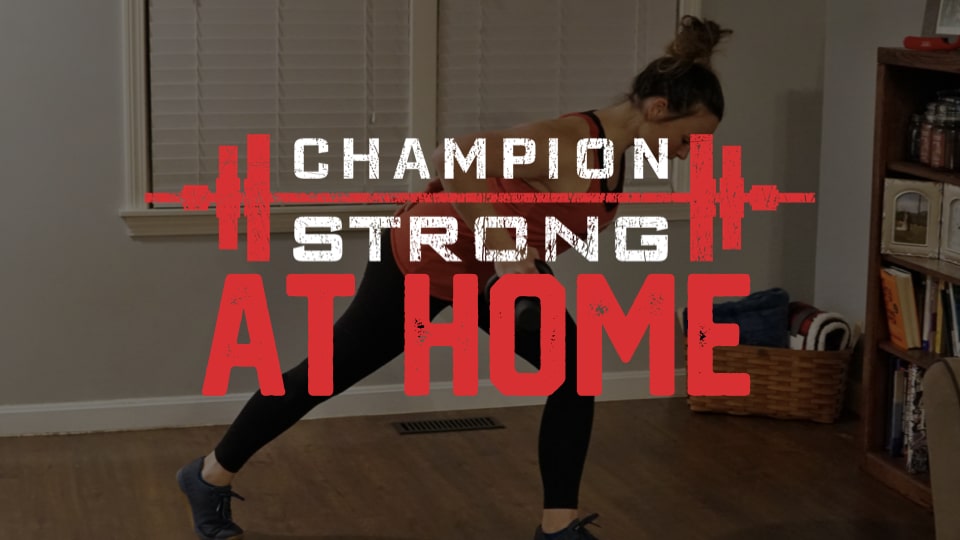 CHAMPION STRONG AT HOME
12-WEEK WORKOUT PROGRAM
---
Training Level: Basic / Intermediate / Advanced

Workouts per Week: 3-5

Workout Length: 45-60 Min

Duration: 12 Weeks

Equipment Needed: Minimal Equipment Needed! Program accommodates for what you have, even if just bodyweight! We'll show you optional variations for Dumbbells, Kettlebells, Bands, Medicine Balls, or Barbell
The Champion Strong At Home workout program is 100% built and designed to be completed in the comfort of your own home. The exercises can be progressed to match you at your current fitness level as well as what you have access to for gym equipment. That makes this truly an AT HOME workout that anyone can do!
There are tons of workout templates out there that guarantee quick results, but few give you a well rounded approach. We've made the program adaptable for 3 to 5 days per week of training with a combination of mobility, strength, high-intensity interval training (HIIT) and more traditional cardio solutions making it one of the most comprehensive programs out there!
This program is complete with:
Self Myofascial Release through foam rolling and other tools

Mobility Drills to keep you moving optimally
Movement Prep Exercises to help groove movements for the day
Equipment Modifications We have selected specific exercises that can be adjusted easily based on the equipment you have access to!
Power Development to prime you for your workout and elevate your heart rate
Strength Training to help you build and retain lean muscle while achieving your fat loss goals
High Intensity Finishers proven to be highly effective for fat loss

Low and Medium Intensity Cardio Options

for your rest days from strength training
Our Champion Strong At Home program is truly one of the most comprehensive programs of its kind to help you reach your fitness goals.
WHAT'S INCLUDED?

---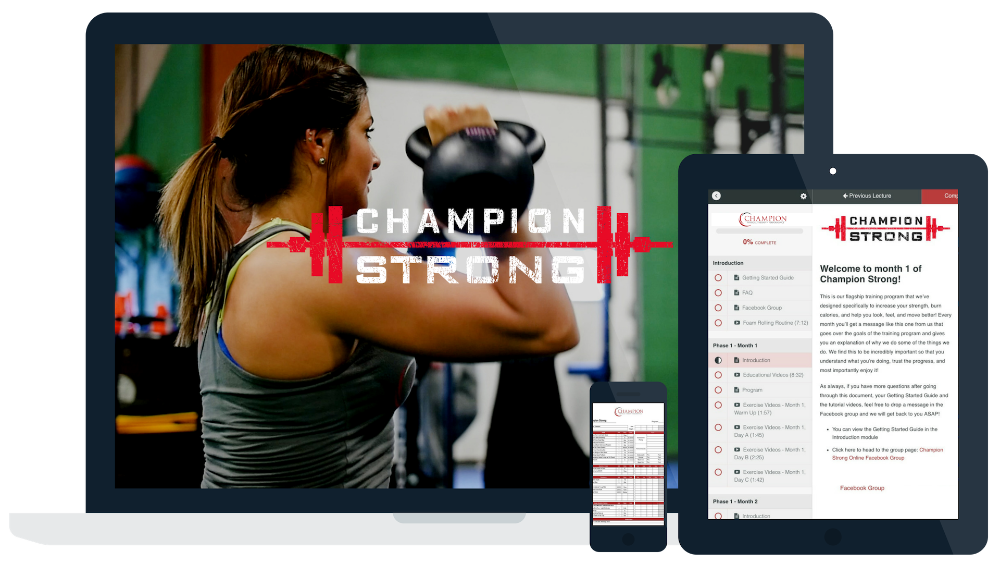 Can't train with us in-person? No Problem. The Champion Online Training platform has everything you need to take advantage of our expert coaching and programming from anywhere in the world
Viewable programs and video exercise demos from your phone, tablet, or computer

Printable versions of your program to take with you and track you weights and progress

New programs are available and exercises are progressed each month to continuously make progress

Adaptable program can be performed 3-5x per week based on your schedule

Access to our extensive exercise library to help you modify or progress your exercises to scale the program based on your level of experience

Educational videos to help you master the main lifts

The ability to ask our team of strength coaches questions if you need help you along the way

Access to our Champion Foundations Program which included our Fitness 101, Nutrition 101, and our 4-Week Champion Foundations program to help you get started in your fitness journey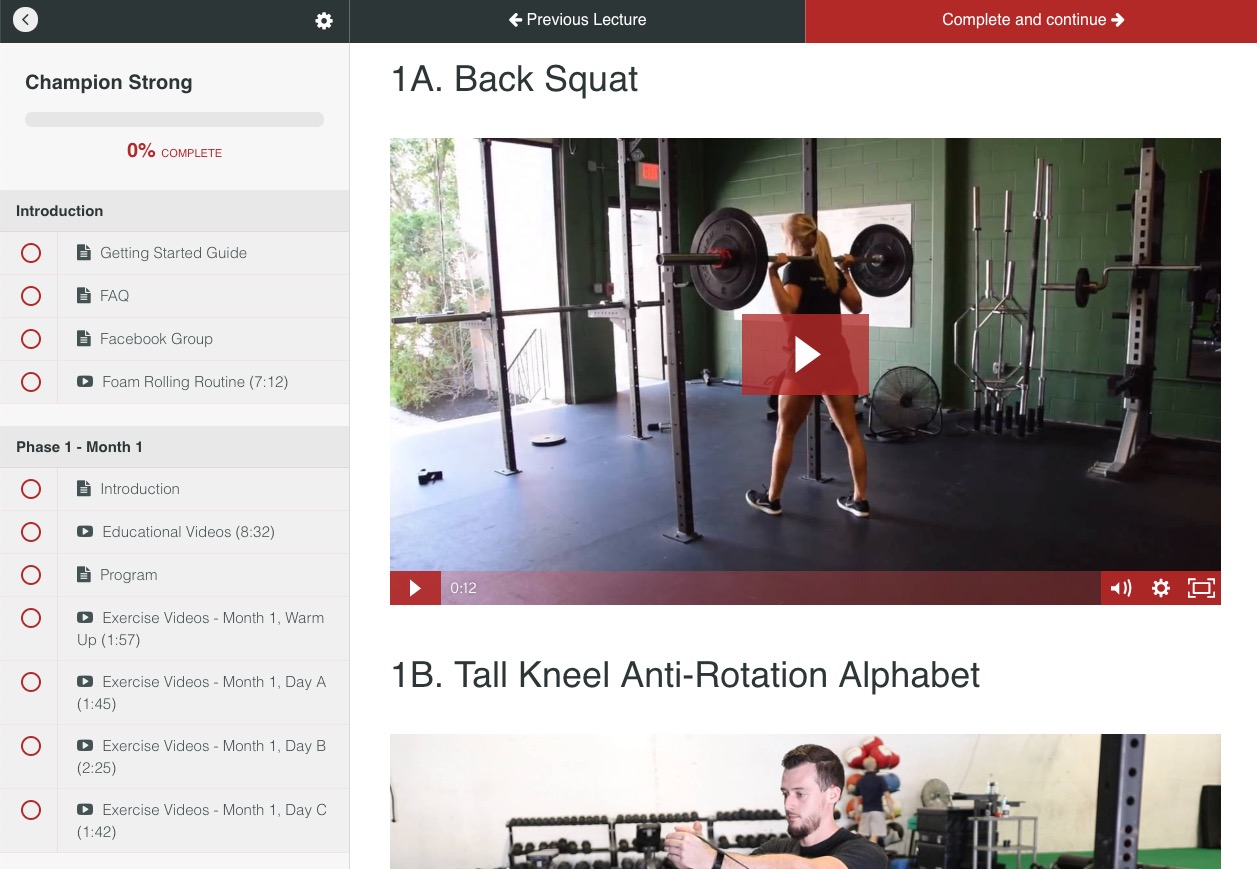 THE CHAMPION DIFFERENCE
---
The world-renowned team at Champion PT and Performance is highly skilled to offer the latest cutting edge fitness options to help you achieve your goals. We are trained in many of the latest assessment, corrective exercise, and strength and conditioning philosophies. Our coaches and therapists are industry leaders who have been featured in:

We work with anyone looking to get the most out of their bodies. Our clients range from busy moms, to weekend warriors, to corporate executives, to fitness enthusiasts, to professional athletes from every sport, including:


BUT DON'T LISTEN TO US, HERE'S WHAT OTHERS SAY ABOUT OUR PROGRAMS
---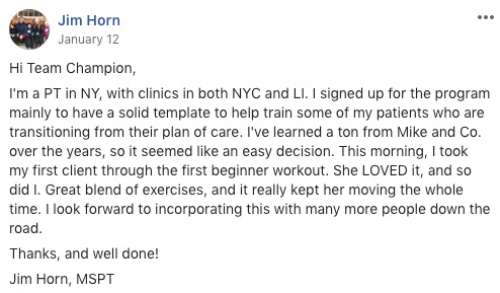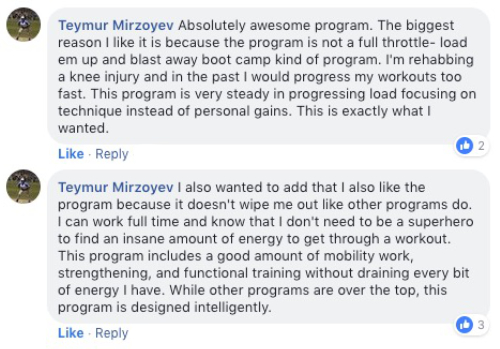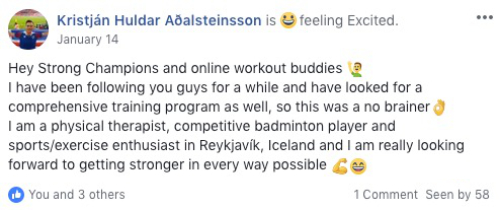 The monthly payment plan option is a monthly subscription for the 3 month program. Your subscription will automatically renew each month, but you can cancel at anytime.

NOT SURE WHICH OF OUR ONLINE PROGRAMS IS BEST FOR YOU?
---
We have a variety of options based on anyone's unique goals, needs, and experience. Browse one of our featured programs below, or click to view all our programs.
Featured Courses
3 payments of $29.99/month
12 payments of $29.99/month
3 payments of $29.99/month
View All Programs