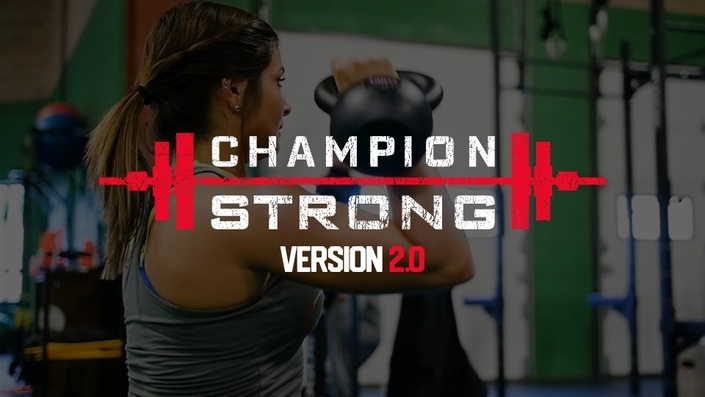 Champion Strong 2.0
Our 12-month flagship online training program to look, feel, move, and perform like a Champion
Enroll in Program
READY TO TAKE YOUR FITNESS TO THE NEXT LEVEL?
---
Are you getting tired of walking into the gym with no real direction, no excitement to workout and not getting the results you want? Do you feel like you do the same monotonous routine every time? Let's break that pattern.
Champion Strong 2.0 is our 12-month flagship training program, carefully developed to help everyone from beginners to former athlete beginners and former athletes to get strong, optimize their body, and take their fitness to the next level.
The program is designed to focus on all aspects of fitness including mobility, strength, power, agility, and endurance. By maximizing all qualities in a progressive and sequential program, you're sure to develop a well-rounded base of fitness and continuously make progress over the course of the program.
Whether you're a beginner or a former athlete, Champion Strong 2.0 is easily adaptable and scalable to customize a program to your level of experience.
Our acclaimed training program is based on the same programs we use every day with our clients in our gym. So we know what works, and we know how to help you reach your goals fast.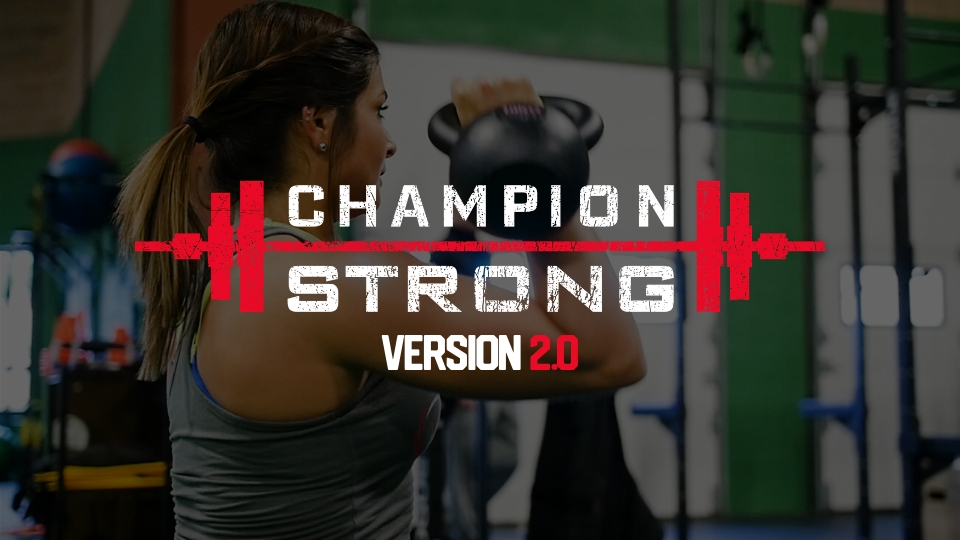 CHAMPION STRONG 2.0
---
Training Level: Beginner / Intermediate / Advanced - can be modified based on training level

Workouts per Week: Standard program is 3x/week, can be modified for 2-4x/week

Workout Length: 60-75 Min

Duration: 12-months

Equipment Needed: Dumbbells, Medicine Balls, Resistance Bands, Kettlebells, Barbell (optional)
Champion Strong 2.0 is our flagship training program that we've designed specifically to increase your strength, burn calories, and help you look, feel, and move better!
Champion Strong 2.0 was designed to take you through 3 effective and progressive phases of fitness over the course of 12 months. We have also included challenge months after each phase, which allow you to see how much progress you have made, while adding a fun and challenging component to your program.
Throughout Champion Strong 2.0 you will build or rebuild a strong foundation, increase your strength and mobility, participate in fun challenges, and accomplish things you have always wanted but never thought were possible. Always wanted to do a chin up? Wanted to learn how to squat with a barbell? Just wanted to feel better and overall stronger? Champion Strong 2.0 can get you there!
Each month within a phase builds on the previous, and each phase has a slightly different focus than the last so that you continue to make progress for the entire year, while still holding true to our values of training every aspect of fitness within the program.
Every 4th month, there is a de-load challenge program. Within these programs, we work on total body strength, and introduce many training variations such as:
On the minute sets

Density sets

Dumbbell and Kettlebell Complex sets

Ladder Countdowns

HIIT Intervals
Training variations like those will let you really see the progress you have made! We have also included cardio challenges for those who want to compete against themselves and others by posting online and within our Facebook group.
After the 12 months of programming ends, you will continue to have access to the program for as long as you continue to be a member. Many people continue their membership because they want to continue to have access to the workouts and educational content for future reference, or because they fell behind a couple of months during their training.
Phase 1 (Months 1-4) Overview
Phase 1 is designed to (re)build a foundation of all qualities of fitness that you can use to develop more specific qualities as the phases progress. In this phase you can expect:
Improved mobility

To develop a foundation of strength and work capacity

To build and enhance fundamental movement patterns

A (Re)Introduction to training all qualities of fitness
Phase 2 (Months 5-8) Overview
Phase 2 is a progressive strength block designed to build and enhance strength while maintaining a high level of fitness through shorter, more intense conditioning circuits. In this phase you can expect:
(Re)introduction and progressive variations of strength lifts (Squat, Bench Press, and Deadlift)

Increased level of single leg strength training

Increased lean muscle mass

The use circuits, every minute on the minutes, and complexes to keep training fresh and effective for improving fitness and burning more calories
Phase 3 (Months 9-12) Overview
Phase 3 is what we call an advanced work capacity phase that includes a variety of training schemes designed to increase your training density to effectively burn more calories, improve your fitness and maintain strength. This advanced strength phase designed to use a variety of training schemes to increase your strength even more. In this phase you can expect:
Improved work capacity through increased training density

Maintenance of strength developed in the previous phase

Lower rep training for the barbell strength lifts with options for both newer and more advanced trainees

Additional accessory and core exercises
---
If you have any question AT ALL about where to begin with your fitness journey, then this program is for you. Our approach was designed from years of experience coaching people of all backgrounds and ability levels and we feel confident that if you want to look, move, feel and perform your best, then this is the best path to success.
WHAT'S INCLUDED?

---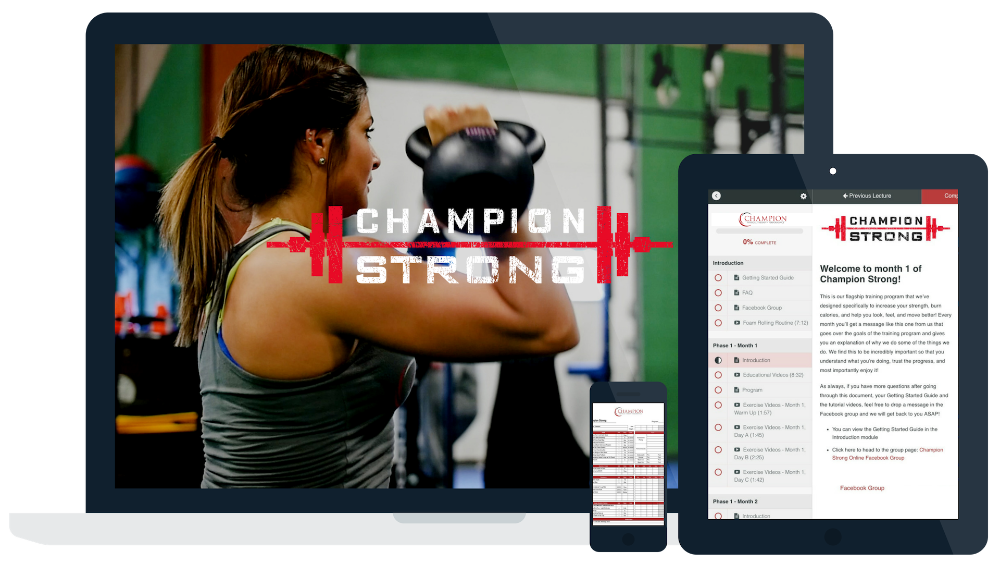 Can't train with us in-person? No Problem. The Champion Online Training platform has everything you need to take advantage of our expert coaching and programming from anywhere in the world
Viewable programs and video exercise demos from you phone, tablet, or computer

Printable versions of your program to take with you and track you weights and progress

New programs are available and exercises are progressed each month to continuously make progress

Adaptable program can be perform 1-4x per week based on your schedule

Access to our extensive exercise library to help you modify or progress your exercises to scale the program based on your level of experience

Educational videos to help you master the main lifts

The ability to ask our team of strength coaches questions if you need help you along the way

Access to our Fitness 101 program to help you get started in your fitness journey.

Fitness 101 covers your success path, nutrition, and more!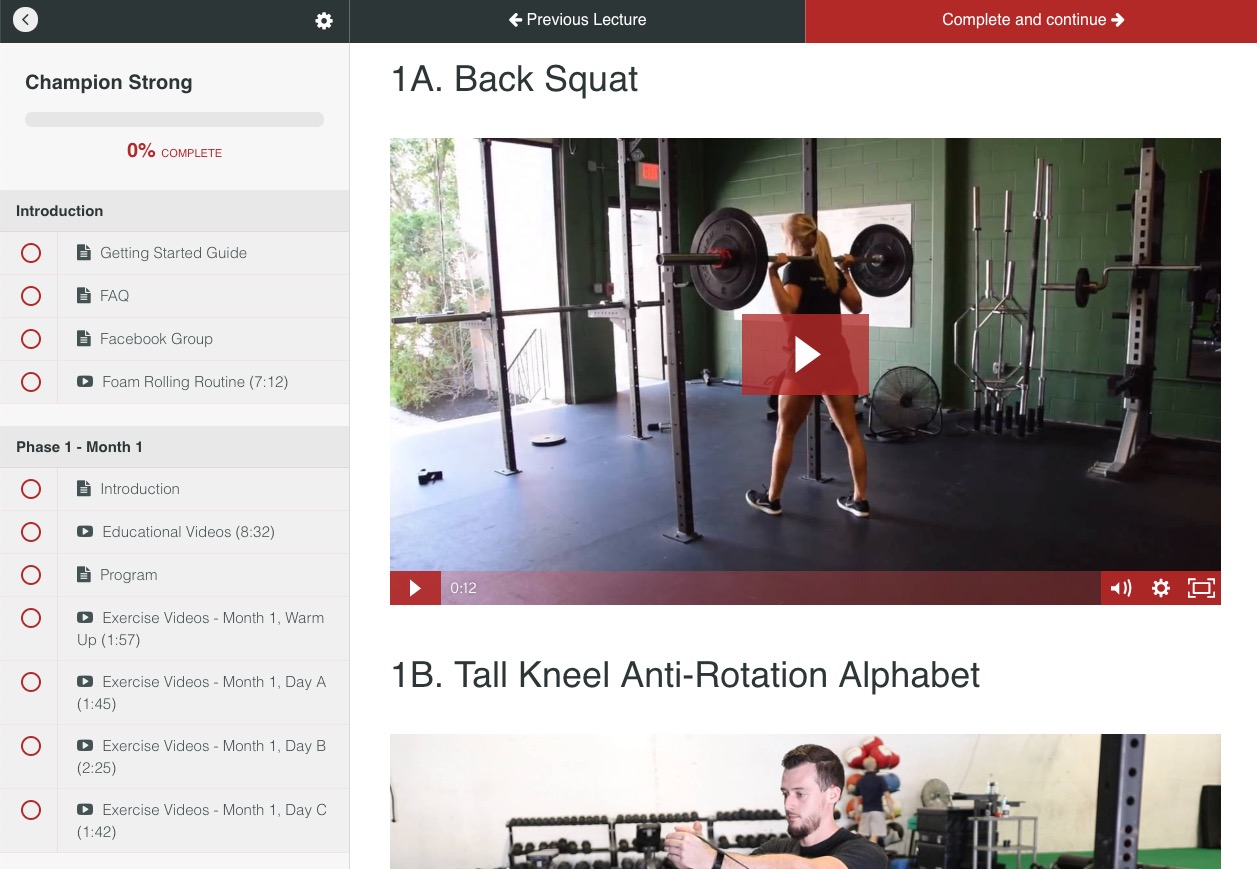 THE CHAMPION DIFFERENCE
---
The world-renowned team at Champion PT and Performance is highly skilled to offer the latest cutting edge fitness options to help you achieve your goals. We are trained in many of the latest assessment, corrective exercise, and strength and conditioning philosophies. Our coaches and therapists are industry leaders who have been featured in:

We work with anyone looking to get the most out of their bodies. Our clients range from busy moms, to weekend warriors, to corporate executives, to fitness enthusiasts, to professional athletes from every sport, including:


BUT DON'T LISTEN TO US, HERE'S WHAT OTHERS SAY ABOUT OUR PROGRAMS
---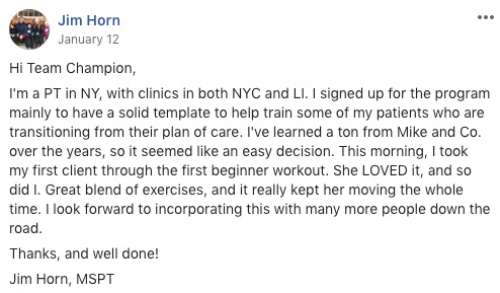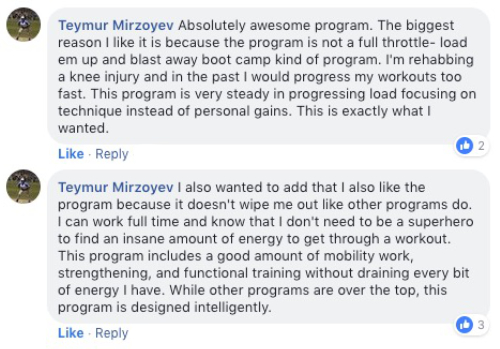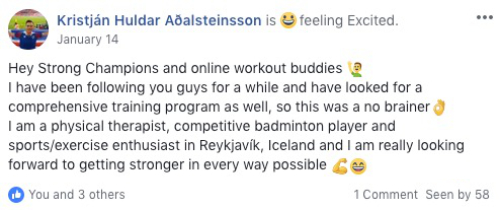 The monthly payment plan option is a monthly subscription for the 12 month program. Your subscription will automatically renew each month, but you can cancel at anytime.
NOT SURE WHICH OF OUR ONLINE PROGRAMS IS BEST FOR YOU?
---
We have a variety of options based on anyone's unique goals, needs, and experience. Try one of our Training Programs at your own pace, join one of our Group Coaching programs and train with a community of like-minded people, Browse one of our featured programs below, or click to view all our programs.
Featured Courses
3 payments of $29.99/month
12 payments of $29.99/month
3 payments of $29.99/month
View All Programs