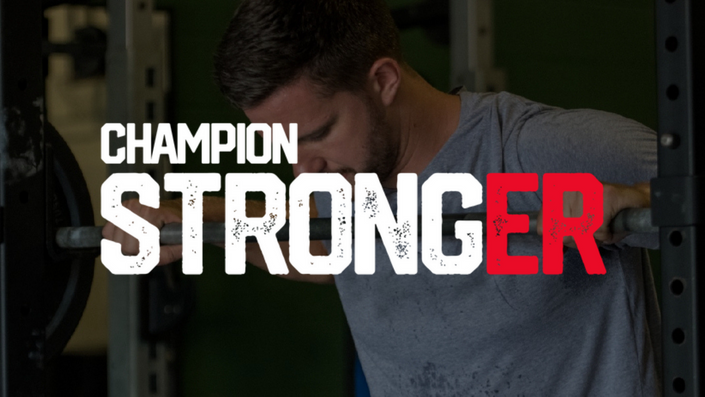 Champion STRONGER
Advanced 12-month strength training program for experienced trainees looking to make new gains in the gym
Enroll in Program
STRONGER.
A 12-Month ADVANCED Training Program by Champion.
---
We all want to get stronger, look better and be more fit. We want the process to be simple and effective with smart coaching and training techniques along the way. Lastly we want the process to be fun, with varied training styles pushing us to consistent progress.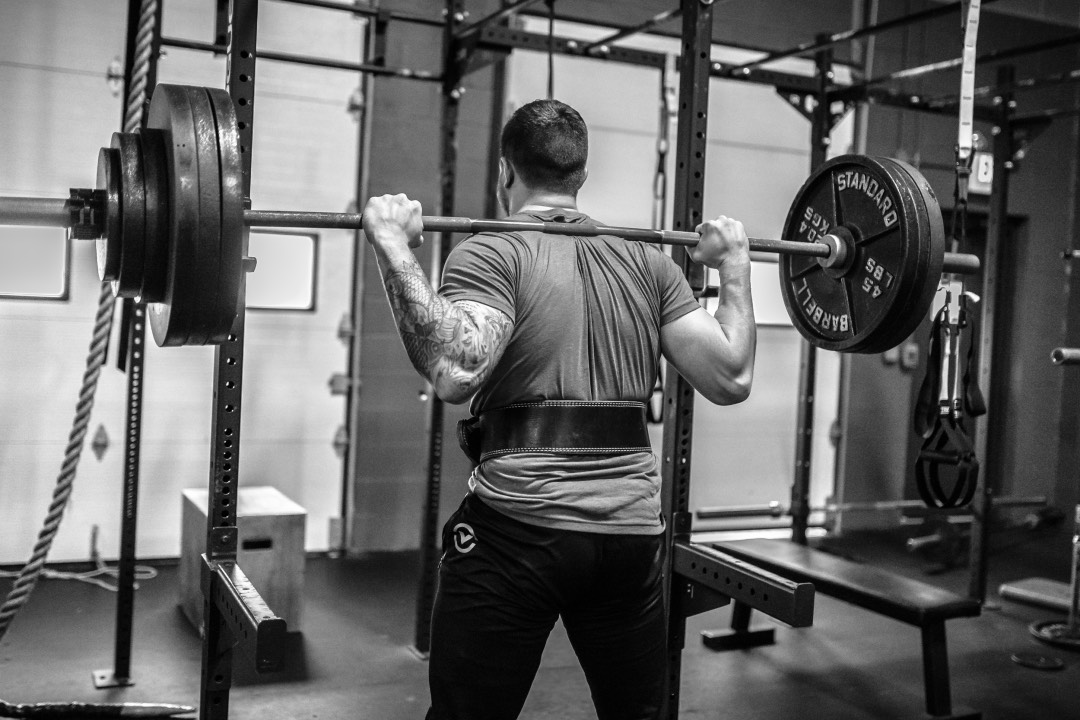 The trouble is finding the right training program for you…
If you start shopping around for online training programs you'll see a lot of programs:
Promising fast and easy results that are NOT realistic for the majority of people

Being written by people who have no real experience working with people

Written with no consideration towards longevity and injury prevention

With no option for modification of movements based on your past prior injury history
We really just want an intelligent, effective program to reach new levels of strength and fitness. What we end up with is frustration, confusion and never reaching any of the goals that were promised in the first place.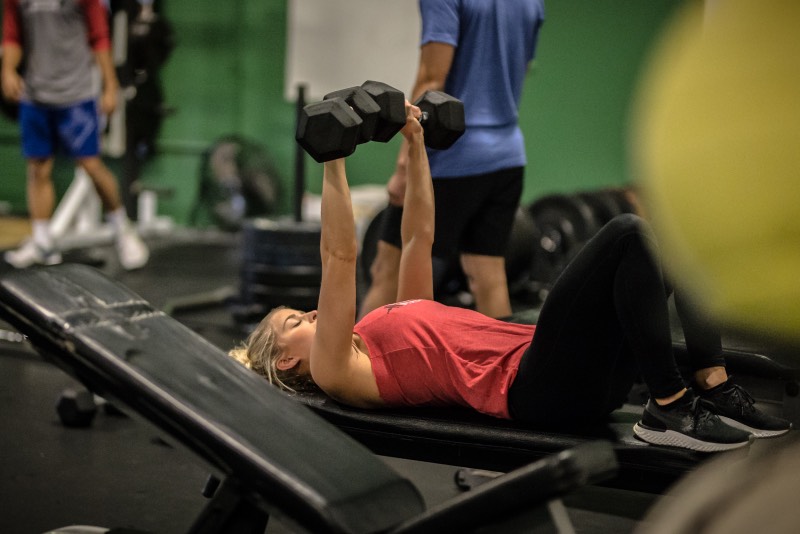 We've been there. We've been through the fads, jumped from program to program with a lack of long term progress and gathered a bunch of injuries along the way. We take a firm stance against these types of programs and want to help ensure that you don't have the same experience as we did.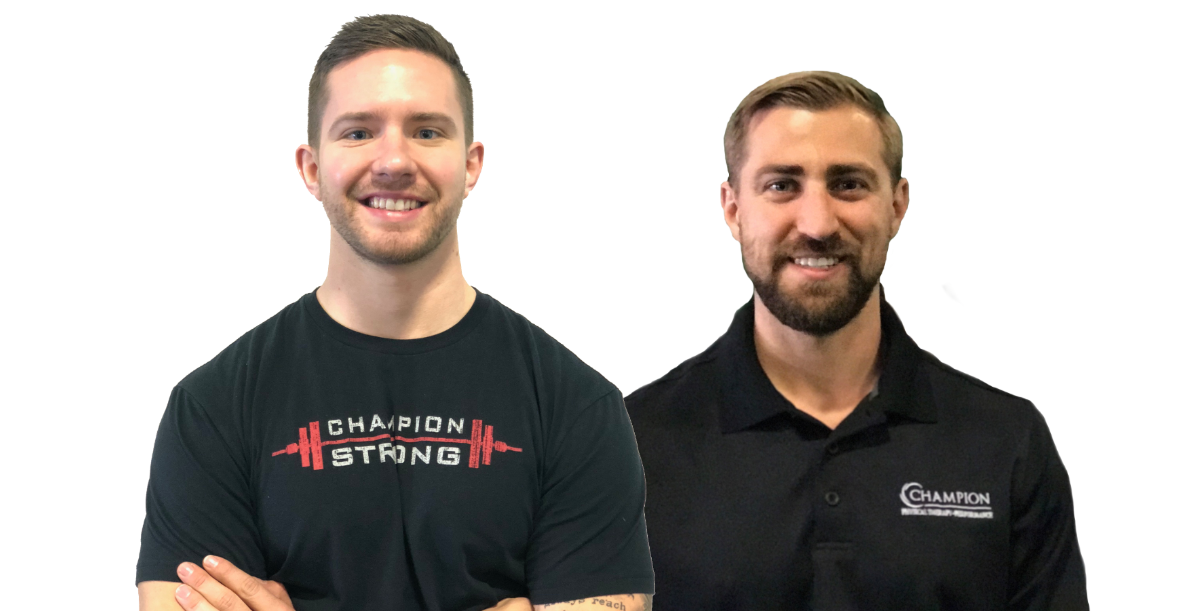 Introducing Dan and Kiefer…

Between the two of us:
We've coached thousands of athletes of all levels from the average Joe and Jane up to the olympic and professional level

We have 20+ years of training experience

Have division 1 collegiate sporting backgrounds and state and national titles in strength sports

We have advanced degrees including a doctorate in physical therapy

We practice what we preach every day of the week…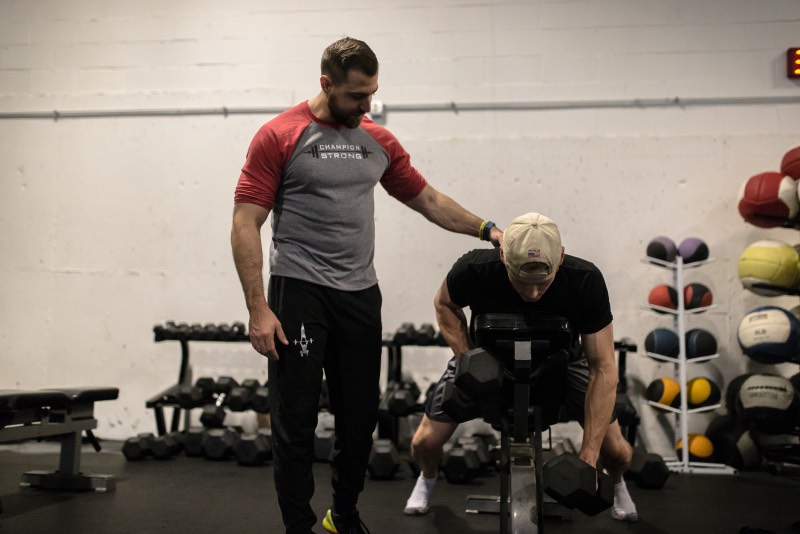 With this being said we'd like to share with you the 3 keys to successful online programs...
1) Consistent hard work with long term goals in mind
When you're just getting started, it's easy to stay motivated because results come easy. After a while though, PRs are few and far between and that internal motivation can start to fade. You try to push harder but the results just don't come. You get bored, need another fix, and think to yourself, "what's the next program?"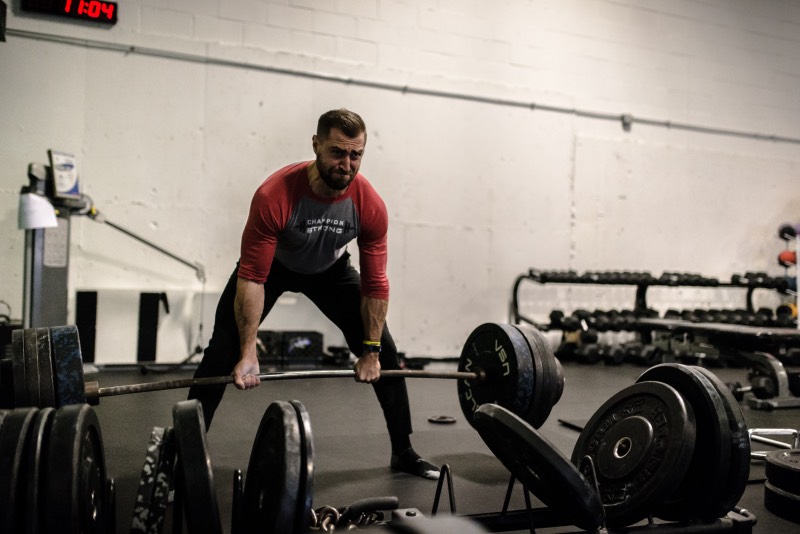 Eventually you hit a plateau
Here's the issue with typical training programs, they usually have a limited lifespan between 1 and 3 months. People will start on a program, make small progress and then move right onto the next one.
We call that program hopping...
Results don't come that fast. If you ask anyone who's built an appreciable amount of strength, size, fitness or athleticism you can be certain they didn't do it jumping from program to program every few months. Getting the results you desire takes dedicated time and effort towards established goals. Then, it takes consistent programming to start making progress towards those goals. Program hopping simply doesn't accomplish this. You need a program with established goals and a rock solid long term strategy to achieve success.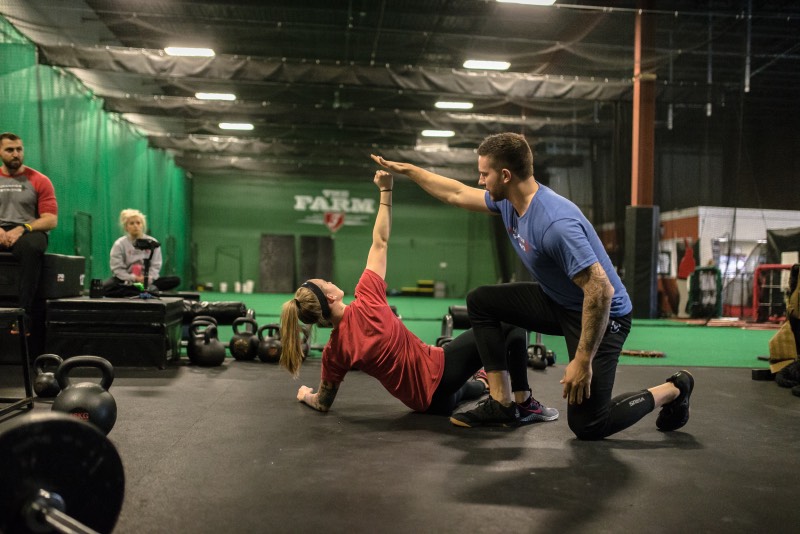 2) Science Based Training Principles
These days, anyone can simply write a program and throw it out on the internet. Good programming is something that takes years of training to learn how to do. It also takes years of actually coaching real people to learn how they respond to the program and how to achieve the best results. This takes years of refinement.
It seems like most of the programs out there are written by a young coach who believes they found "the perfect solution" to lifelong fitness, health and wellness. Maybe they found a good program that works for them, but that doesn't mean it will work for the rest of humanity. Anyone that promises something that's too good to be true is probably promising exactly that.
Good programming should be based around experience and what the latest science is saying is actually effective, and not just what the internet says is popular at the moment.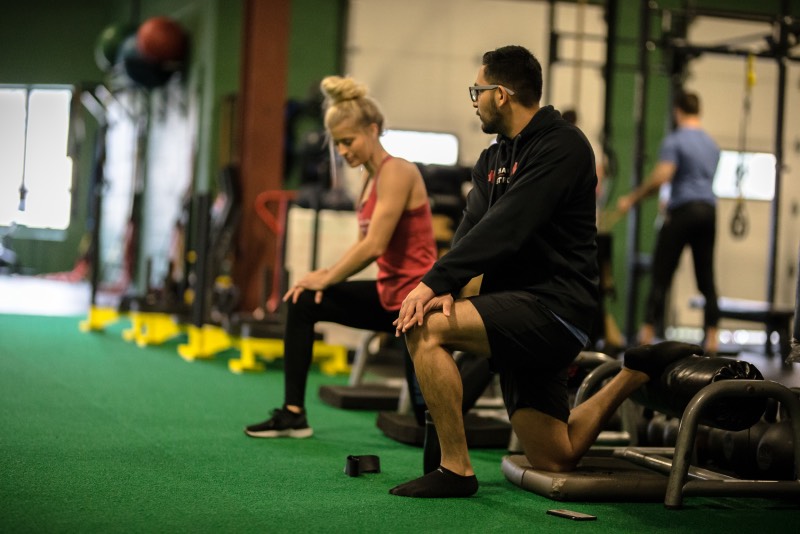 3) A Community of Like Minded Individuals
The other vital component usually lacking in generic exercise programming is community. Community is what keeps you engaged, motivated and having fun with your training. Ask some of the best athletes in the world the secret to their success and they'll tell you that having the right training partners and team makes all the difference in your success. It provides that extra bit of motivation to go for that big new PR. It gives you the daily motivation to get through those workouts that feel like a grind. It provides the support to keep you going for the long haul so you can achieve those long term gains you want so much.
With the Champion STRONGER Strength Training Program you'll be training among people with similar goals all striving for the same thing. It's like having a group of training partners working towards the exact same goal with you every day.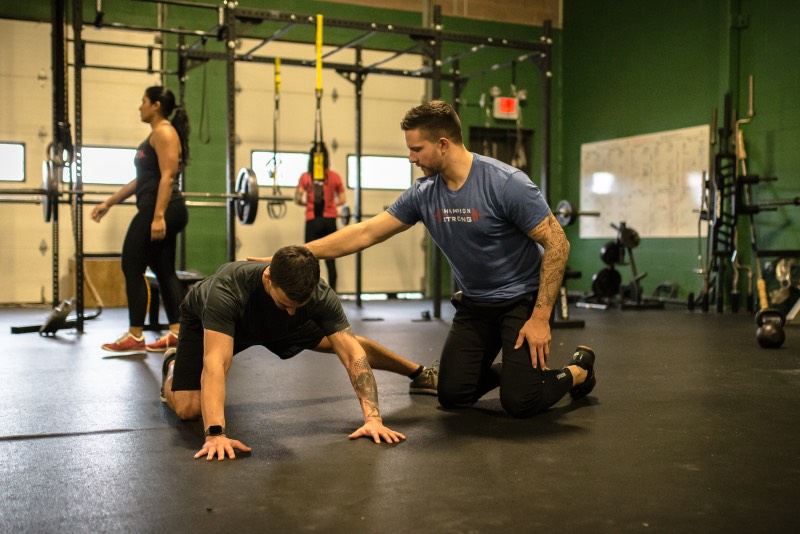 Led by Dan Pope, DPT, CSCS and Kiefer Lammi, CSCS, the Champion STRONGER Strength Training Club is an intense and detailed monthly training program. It is a natural step up from Champion STRONG, our flagship training program. If you're looking for a challenging, more advanced version of Champion Strong, you've found it.
Both Dan and Kiefer are experienced coaches with backgrounds in powerlifting, olympic lifting, Strongman, and Crossfit. Both are part of the expert team of Physical Therapists and Strength Coaches at Champion PT and Performance where we help hundreds of real people get real results.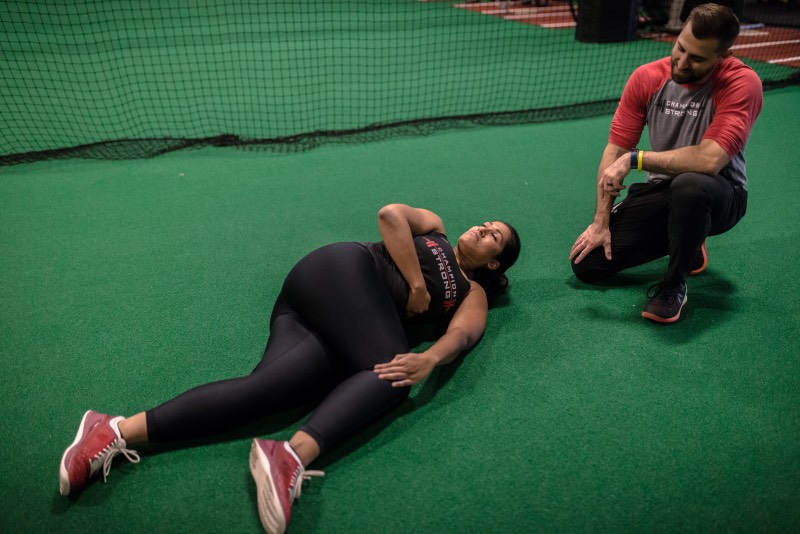 Each month will build on the previous and each new training phase will present with different themes and challenges to continue to push your training limits and motivate you to crush your goals.
So, do you want to:
Follow an advanced, challenging training program that will get you results?

Train smarter with our intelligent approach to stay healthy, pain-free, and resilient?
STRONGER is your training program.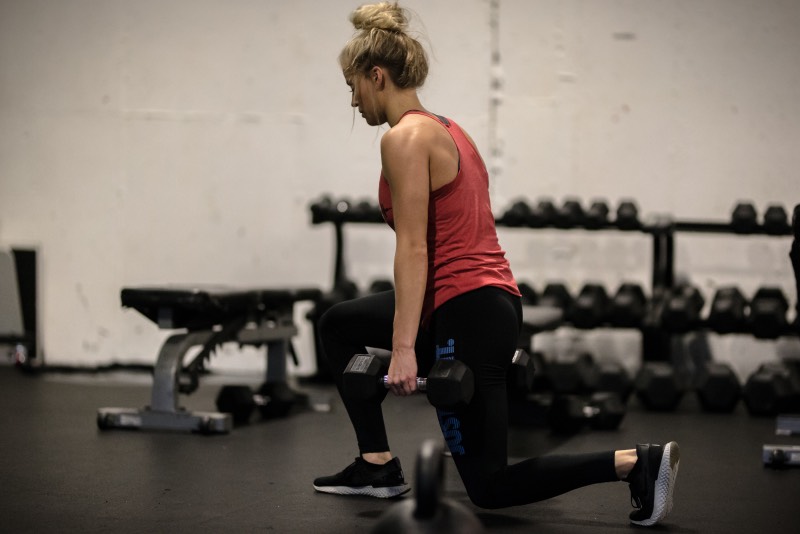 CHAMPION STRONGER
---
Training Level: Intermediate / Advanced

Workouts per Week: 4-6

Workout Length: 60-90 Min

Duration: 12-months

Equipment Needed: Barbell, Dumbbells, Kettlebells
Course Description
There's nothing worse than having no direction in the gym. Join STRONGER and find out what you've been missing.
With the Champion STRONGER Strength Training Club you'll get:
A challenging 4x/week monthly training program with clear objectives and direction

Strength programming that emphasizes powerlifting movements and variations, plus supplemental training for hypertrophy, movement quality, and health

Rotating training emphasis with every phase coming with new challenges, programming schemes, and exercise selection

Optional accessory and conditioning training days to take you to 6x/week of training

Expert programming from Dan Pope and Kiefer Lammi

A detailed exercise database
Who is STRONGER for?
Training enthusiasts who are tired of finding workouts online or jumping from program to program

Coaches who are ready to hand over the reins to their own training so they can focus more on their clients

Anyone frustrated with trying to find a program that doesn't put you in a box as just one kind of athlete (powerlifter, weightlifter, Crossfitter)

Anyone who wants to take their training to the next level
Overview of the Phases of Champion STRONGER
Champion Stronger was designed to take you through four uniquely challenging training phases, each with a distinct goal and progression. Each month within a phase builds on the previous, and each phase has a slightly different focus than the last so that you continue to make progress for the entire year, while still enjoying the novelty of new training stimuli.
Phase 1 (Months 1-3) Overview
Phase 1 is designed to be a dedicated strength block with an emphasis on building the back squat, bench press and conventional deadlift. There are weekly increases to volume and intensity that has lead many others to a new 1RM in month 3 as well as a heavy dose of accessory work to address weaknesses, develop muscle, and build resiliency to tolerate more challenging training. In this phase you can expect:
Emphasis on Squat, Bench, and Deadlift, Pull-up and specific variations

Enhanced movement quality through the use of tempo training, single leg work, and accessory movements.

Specific attention to developing shoulder, hip and core strength to compliment high volumes of specific training
*While we've specified these lifts (Back Squat, Bench Press, Conventional deadlift) for the program, you also have the ability to substitute for other appropriate variations of each movement.
Phase 2 (Months 4-6) Overview
Phase 2 has an emphasis on improving work capacity through an increase in frequency as well as the use of a variety of methods to increase training density. While we will always maintain an emphasis on developing strength through the big lifts, improving work capacity and training with more movement variety will help to improve general athleticism, avoid burnout from overspecialization, and prepare us for future training phases. In this phase you can expect:
Continued emphasis on developing strength through specific variations of your big 3 lifts (Squat, Bench, and Deadlift)

Training variety through methods including giant sets, EMOMs, contrast training, and more!

Movement variety through challenging single leg, frontal plane, bodyweight movements, and more!

Explosive movements aimed at improving overall athleticism
Phase 3 (Months 7-9) Overview
Phase 3 is a more traditional strength phase with a Lower / Upper split similar to how Phase 1 looked, but with it's own unique feel and EVEN MORE new exercise selection. In this phase you can expect:
Emphasis on Squat, Bench, and Deadlift, Press and specific variations

New movements and exercises to supplement your core lifts

Short, intense metcons designed to maintain the work capacity developed in Phase 2
Phase 4 (Months 10-12) Overview
Phase 4 will look more similar to phase 2 in its emphasis on 'filling the gaps' in our training through an emphasis on non-traditional training styles, movement variety, and unique challenges to keep you motivated in your training. In this phase you can expect:
Continued emphasis on developing strength through specific variations of your big 3 lifts (Squat, Bench, and Deadlift)

Training variety through methods including giant sets, EMOMs, contrast training, and more!

Movement variety through challenging single leg, frontal plane, bodyweight movements, and more!

Explosive movements aimed at improving overall athleticism
Ready to Get Started?
---
The Champion STRONGER Strength Training Program is available for $29/month, only a fraction of the cost of many other online training programs.
We know you'll love it and get awesome results, but if you don't, you can cancel at anytime.
WHAT'S INCLUDED?

---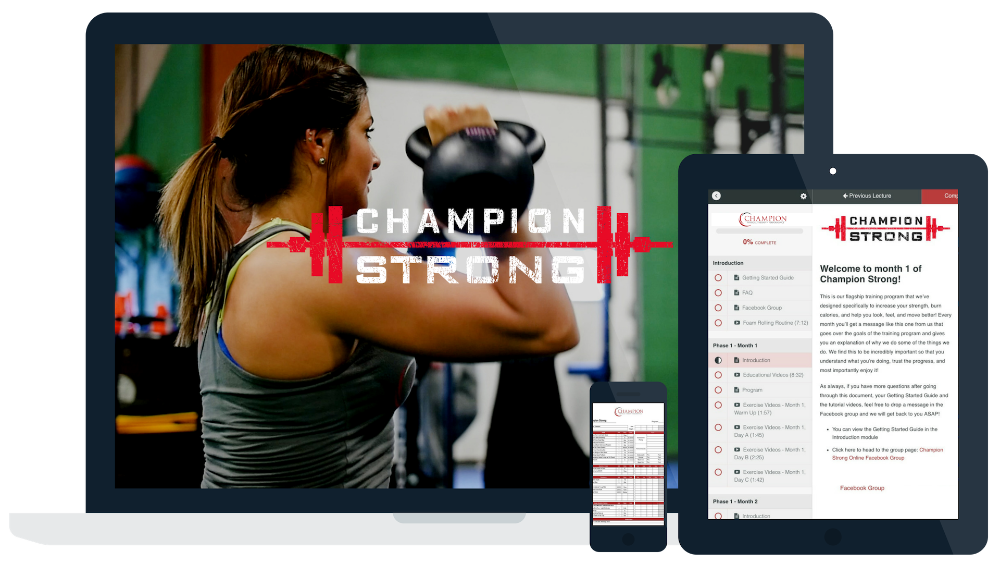 Can't train with us in-person? No Problem. The Champion Online Training platform has everything you need to take advantage of our expert coaching and programming from anywhere in the world
Viewable programs and video exercise demos from you phone, tablet, or computer

Printable versions of your program to take with you and track you weights and progress

New programs are available and exercises are progressed each month to continuously make progress

Guidance and video feedback from Champion coaches to help improve your technique

Access to our extensive exercise library to help you modify or progress your exercises to scale the program based on your level of experience

Educational content and videos to help you master the main lifts

A private Facebook Group to interact with the #TeamChampion coaches and online community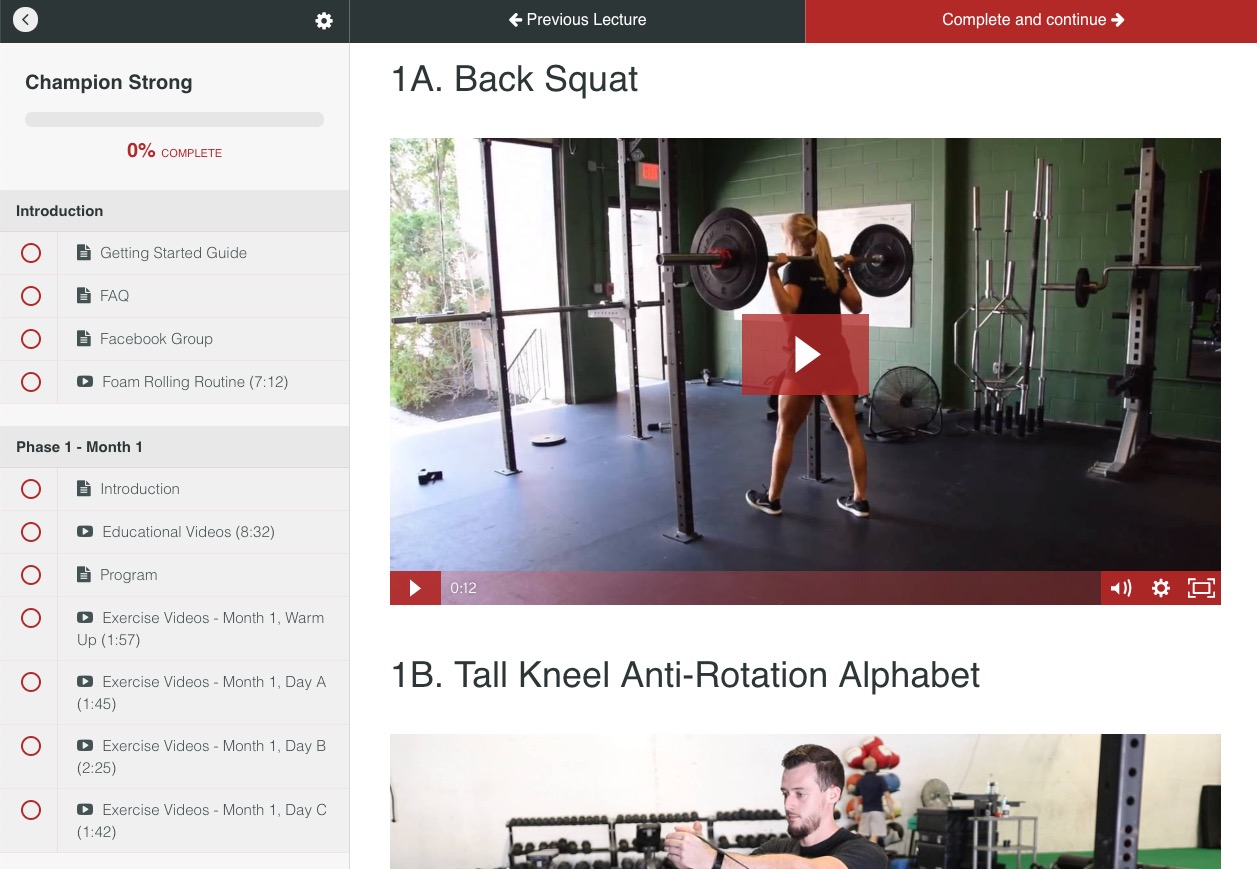 THE CHAMPION DIFFERENCE
---
The world-renowned team at Champion PT and Performance is highly skilled to offer the latest cutting edge fitness options to help you achieve your goals. We are trained in many of the latest assessment, corrective exercise, and strength and conditioning philosophies. Our coaches and therapists are industry leaders who have been featured in:

We work with anyone looking to get the most out of their bodies. Our clients range from busy moms, to weekend warriors, to corporate executives, to fitness enthusiasts, to professional athletes from every sport, including:


BUT DON'T LISTEN TO US, HERE'S WHAT OTHERS SAY ABOUT OUR PROGRAMS
---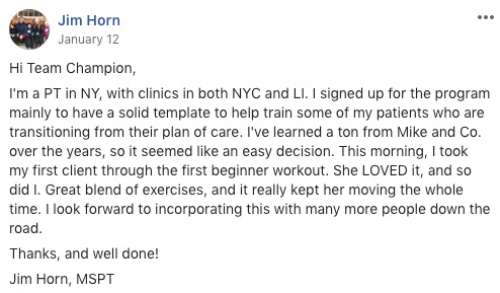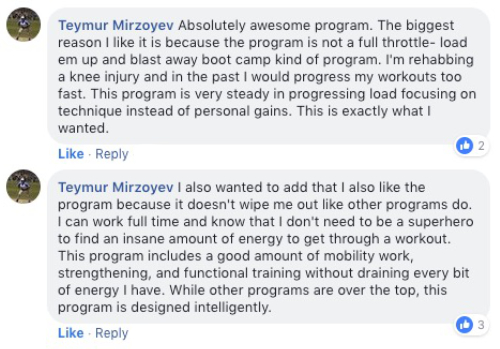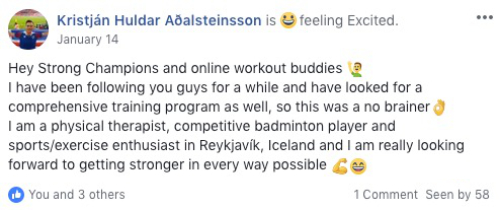 Sign-up and Begin Training!
---
Sign-up now and begin as soon as you're ready. Each month your new program will become available to you and you'll have access as long as you remain a member.
We know you'll love it and get awesome results, but if you don't, you can cancel at anytime.

NOT SURE WHICH OF OUR ONLINE PROGRAMS IS BEST FOR YOU?
---
We have a variety of options based on anyone's unique goals, needs, and experience. Try one of our Training Programs at your own pace or get a completely customized program and 1-on-1 coaching from out team. Browse one of our featured programs below, or click to view all our programs.
Featured Courses
3 payments of $29.99/month
12 payments of $29.99/month
3 payments of $29.99/month
View All Programs