Champion Online Training
Now you can follow our acclaimed programs from anywhere in the world and Train Like a Champion
Can't Train with Us in Person? No Problem.
Introducing our acclaimed online adult fitness and sports performance training programs for people unable to train with us in person. We have something for everyone looking to feel, move, and perform better.
---
As featured in:

---
TRAIN LIKE A CHAMPION, NOW ONLINE
---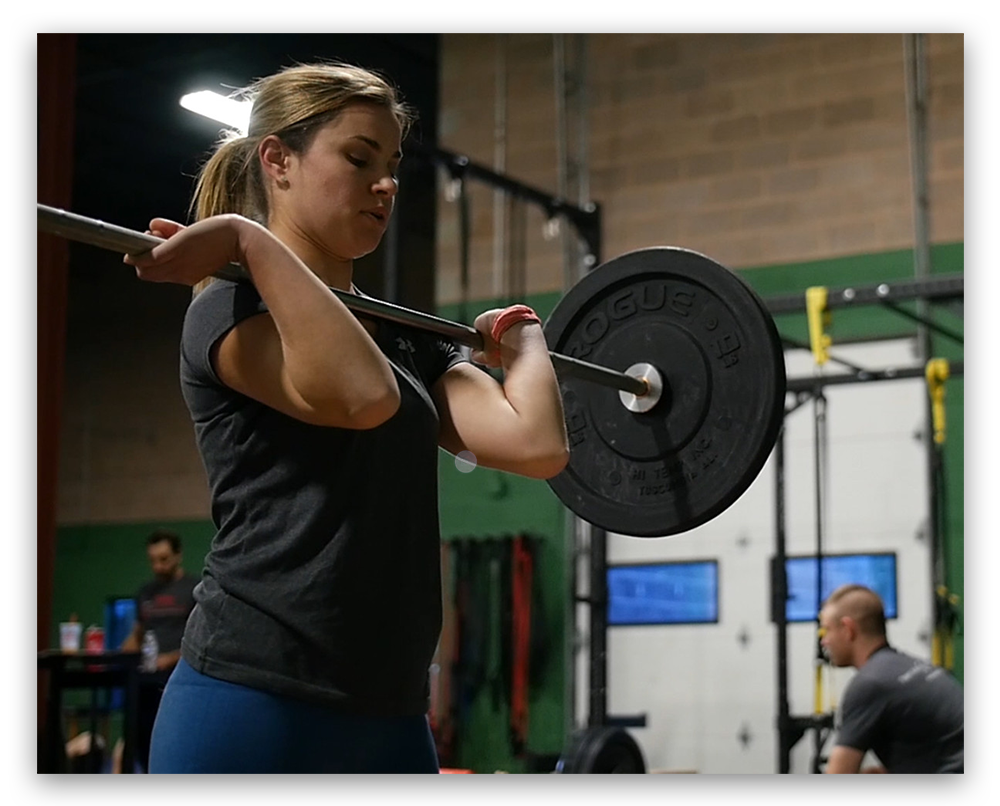 You can now follow Champion's acclaimed programming from a distance! Our team of world-renowned strength coaches and physical therapists have teamed up to build online versions of our most popular programs. Our team has over 20 years of experience working with 1000's of clients. We've used this experience to constantly refine our amazing adult fitness and sports performance online programs based on exactly what we do at Champion, and what we know works!
Expertly designed programs based on science and experience

Based on the same programs used daily at Champion

Programs designed to restore, optimize, and enhance how well you feel, move, and perform

Our programs focus on all aspects of performance - mobility, agility, strength, power, and endurance
A VARIETY OF PROGRAMS THAT GET RESULTS
---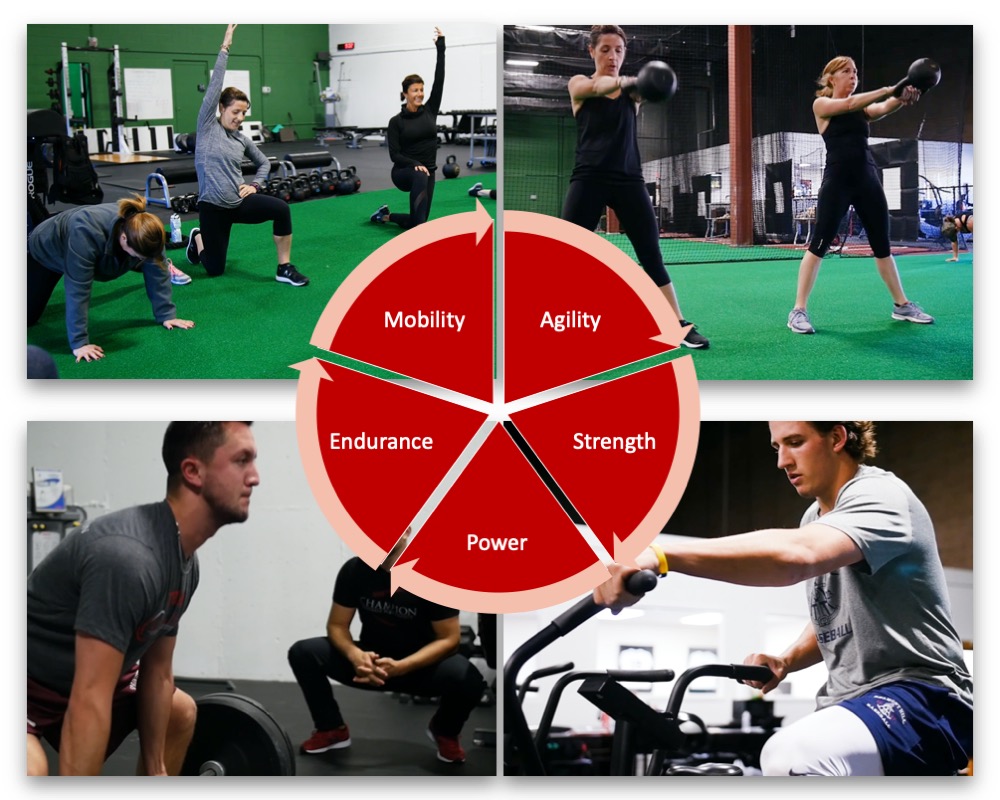 Whether you're just looking into starting a fitness program, an advanced trainee, or an elite athlete, there's a program for you. All our programs can be scaled to help you get started or take your fitness to the next level.
Adult Fitness: Unleash your inner athlete, get in the best shape of your life, and take your fitness to the next level

Sports Performance:

Maximize all aspects of your performance, while reducing your injury risk.
YOUR COMPLETE ONLINE TRAINING PLATFORM
---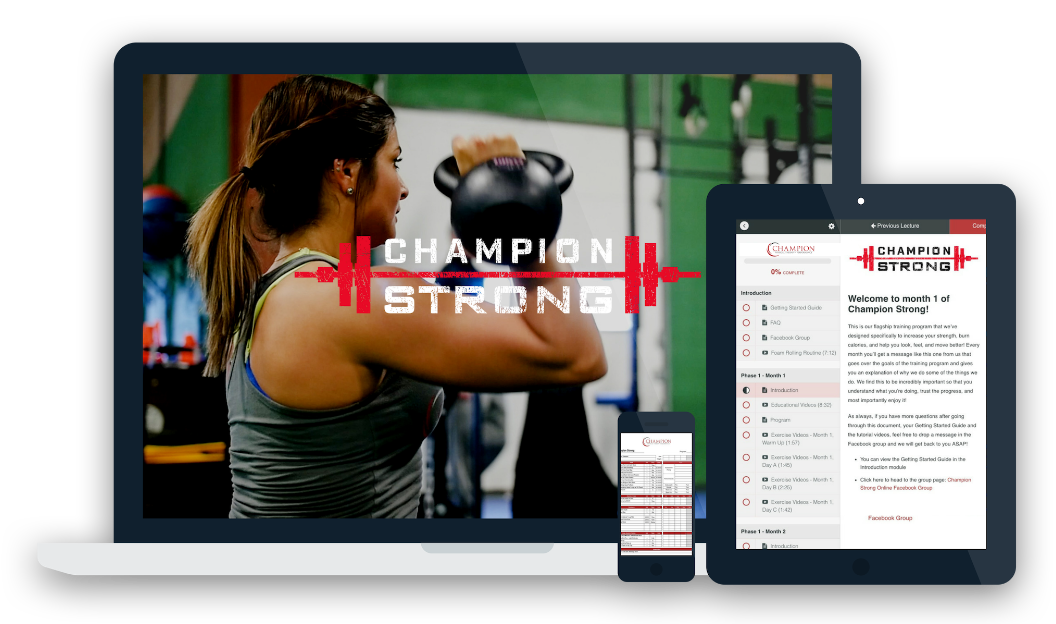 Our brand new online training platform has everything you need to easily follow our programs. You'll get access to our online website to view your program, exercise demonstrations, and more from any computer, phone, or tablet. You can easily follow along on the go, or print out a comprehensive workout card to follow in the gym on your own and log your workouts.
24/7 online access to the Champion Online Training Website from your phone, tablet, or computer

Full exercise video library to learn the exercises and progress or modify your program

The ability to ask questions to our team of coaches
NOT JUST WHAT TO DO, BUT ALSO THE "WHY"
---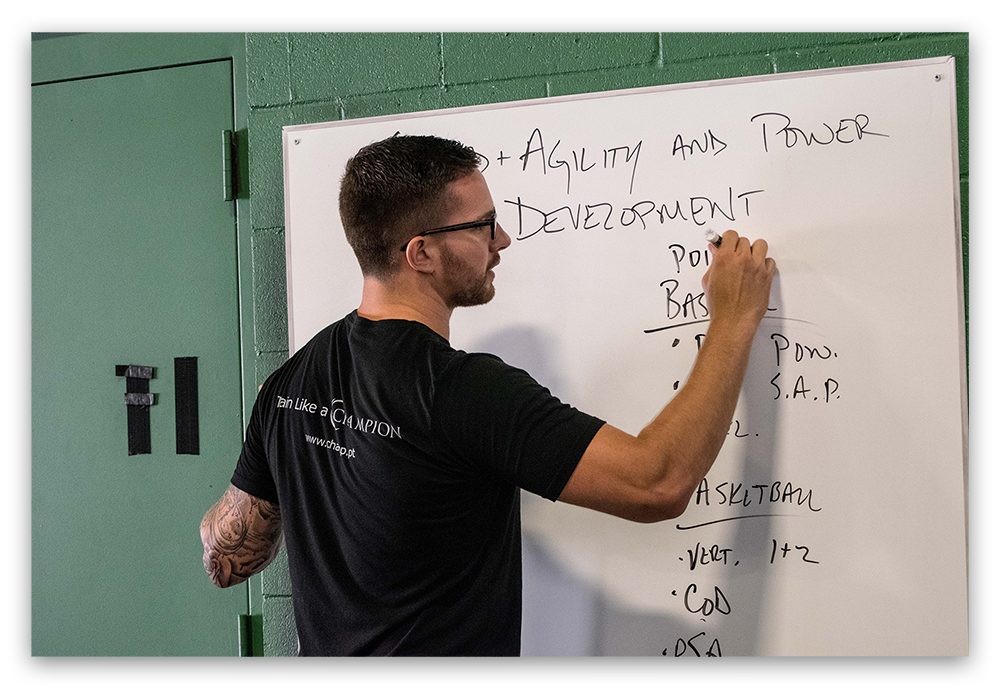 We combine our strength and conditioning programming with educational resources to help you take your fitness to the next level by truly learning. At Champion, our team members are experts in the fields of performance training and therapy. Our goal with our online platform is to not only provide you with a great training program, but also an educational resource so you learn the method behind our programs and develop your own training skills.

Plus, for those that are fitness or rehabilitation specialist, you'll not only enhance your own body and performance, but also improve your coaching and produce better results for your clients.
Fitness educational resources

Full exercise video library

Detailed coaching tips and explanation of the main exercises
READY TO GET STARTED?
Click below to learn more and explore all of our adult fitness and sports performance programs